Bristol Sports Shops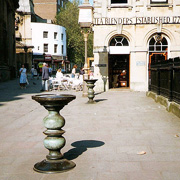 With two football teams, a lively rugby and cricket scene, and the opportunity to do pretty much any sport you care to mention, it's no surprise that Bristol has a broad selection of sports shops that enables the amateur sportsperson to buy all the equipment they need. Whilst there are large JD Sports and JJB Sports in Cabot Circus, we'd suggest travelling (or maybe running/cycling?) a bit further afield to check out all the independent sports shops that the city has to offer.
Whether you're into jogging, martial arts, mountain biking or surfing, there are sport shops in Bristol to suit every taste. Particularly good is Veals fishing tackle shop in the building opposite the main Gardiner Haskins store. This second-floor showroom is stocked from floor to ceiling with just about any fishing paraphernalia an angler could ever want.
POPULAR BUSINESSES
Bristol & Bath Science Park, Dirac Crescent, Emersons Green, Bristol, BS16 7FR
0117 370 7731
410 Wells Road, Red Lion Hill, Knowle, Bristol, BS14 9AF
0117 9770280
427 Wells Road, Bristol, BS4 2QW
01173 009 956
647 Fishponds Road, Fishponds, Bristol, BS16 3BQ
0117 965 2473
6 Horfield Road, St Michael's Hill, Bristol, BS2 8EA
0117 929 7787
77 Broadmead, Bristol, BS1 3DX
0117 9299694
The Galleries, Broadmead, Bristol, BS1 3XD
0117 927 6303
103 Bath Road, Longwell Green, Bristol, BS30 9DD
0117 9619999
62 Park Row, Clifton, Bristol, BS1 5LE
0117 9279981
Units 1-3 Shield Retail Centre, Link Road, Bristol, Bristol, BS34 7BR
01179 143000
38 North View, Westbury Park, Bristol, BS6 7QA
0117 9739092
Brunel Rooms, Gardiner Haskins, Straight Street, Bristol, BS2 0JP
OTHER BUSINESSES
Any Sports

18 North Walk, Yate, Bristol, BS37 4AP
01454 329963
Bristol Kite Store

39a Cotham Hill, Bristol, BS6 6JY
0117 974 5010
Bristol Rugby Shop

28 The Arcade, Bristol, BS1 3JD
0871 2082234
Elite Sports & Leisure

524 Filton Avenue, Filton, Bristol, BS7 0QE
0870 7662694
Ikon Limited

190 Henleaze Road, Henleaze, Bristol, BS9 4NE
0117 620011
Imperial Sports

467C Wells Road, Bristol, BS14 9AG
0117 329 6618
Rollermania

62 Park View, Bristol, BS1 5LE,
0117 927 9981
Smart Set Sports

5 Clifton Down Shopping Centre, Whiteladies Road, Bristol, BS8 2NN
0117 974 4272
The Sports Shop

39 High Street, Portishead, Bristol, BS20 6AA
01275 842573
Up & Running Bristol

38 North View, Westbury Park, Bristol, BS6 7QA
0117 9739092
Venom Sports

46 Stapleton Road, Bristol, BS5 0RA
0117 329 6018