Baseball Shops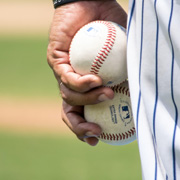 Often thought of as an American invented game where itís one of their national sports, baseball in fact was developed in England in the mid eighteenth century. Played all over the world and becoming more popular in the UK, a large number of baseball shops cater for the needs of the hundreds of thousands of active players. Played in teams of nine, hundreds of clubs in different leagues regularly play competitive matches.
Both online and traditional baseball shops sell every piece of equipment thatís needed to play the game, ranging from bats, balls, bases, gloves or mitts, helmet, caps and of course a suitable uniform or clothing. Often known as hardball, the game of baseball can often take over two hours to finish, and team members need to have good stamina. A good baseball shop will be able to offer great choices of equipment, especially focussing on the main protective pieces – itís not called hardball for nothing!
Most of the baseball shops are staffed by people who play the sport themselves and are therefore well qualified to advise on all the right gear. Thereís a good choice of baseball equipment to cover all budgets, and for newcomers to the sport most baseball shops will be able to advise players on local teams to join.