Ride Snowboard Shops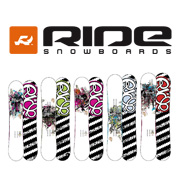 There's huge competition in the marketplace for boards and equipment for snowboarding, but Ride snowboards are some of the most popular and well made. Awesome graphics help to sell a board, but the quality has to be right, and whilst there's no doubt that Ride images are up there with the best, the build quality and value of their skateboards are also some of the finest money can buy.
With a great selection of places to purchase Ride gear, both traditional Ride shops and online retailers can all supply a terrific choice. Naturally enough there's different designs for men, women and kids, but the ranges don't stop there. Their snowboards wouldn't be complete without some matching boots, bindings or some clothing to complete the overall look. Investment in new technology is an important part of Ride's constant development plans, and without constant research into new materials and manufacturing techniques, companies can soon get left behind their competitors.
Cappel jackets and other outerwear is a wholly owned Ride brand, and with all the features customers expect of a premium brand, this one will not disappoint. Ride snowboard shops will all carry great selections of their equipment and clothing, as well as all the important accessories like beanies, belts, sweats, socks and tees – not forgetting the bags to carry it all in.
RECOMMENDED CATEGORIES

These snowboarding shops offer big choices of equipment and clothing, often made by some of the big-name sports brands.
Visit the Snowboarding category >>