Eastpak Shops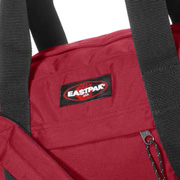 Part of a much larger coalition of outdoor brands including JanSport and The North Face, Eastpak has their European headquarters based in Belgium. Whilst primarily a major seller of backpacks, Eastpack are also heavily into fashion clothing too. With a great selection to choose from, Eastpak not only make backpacks, but also luggage, shoulder bags, bum bags and pouches. Some fantastic colours, designs and materials make Eastpak backpacks some of the most fashionable ones you can buy.
Eastpak call their collection of backpacks the Urban Action range and they are designed to appeal to trendy kids to carry all their gear around in. Laptop bags come in all shapes and sizes, as well as some pretty funky colours! If you are into leather goods, Eastpak has a terrific selection to pick from. Fashion clothing is always changing – not only colours and designs, but by seasons too. Eastpak clothing is some of the trendiest we've seen, and with ranges covering guys and girls there's always something new to buy.
Shoulder bags are as popular as ever and Eastpak have a great choice of designs. Whatever Eastpak backpack, shoulder bag or clothing a kid wants, they should find plenty of choice from this forward looking and adventurous brand.
RECOMMENDED CATEGORIES

There are many specialist backpack shops that exist to offer great choices and ranges to their customers. Find some here.
Visit the Backpacks category >>