Bridge Shops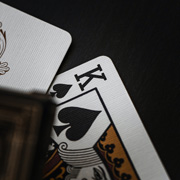 Most bridge shops will also sell a selection of other card or board games, although bridge is probably the most popular of all the different card games that can be played. The rules of bridge can appear complex to a beginner, and several variations can cause confusion if not learnt correctly. Although all thatís required for four people to play bridge is two packs of cards, the bridge shops will also sell a huge variety of accessories to help.
These can include tutorial DVDís, bridge computers for learning, bridge tables and even special card holders for people who may have difficulty holding a set of cards in their hand. Bridge shops are great sources of information for anything to do with bridge, and consumers now have a greater choice that ever with a great mix of traditional and specialist website sellers.
Many players will learn bridge whilst at school or university, but equally itís a popular game that newly retired people will be taught, as they begin to have a lot more time on their hands. Bridge shops can put people in touch with local clubs for novices to learn, and those with a highly competitive nature will find that bridge tournaments are held all over the country.