Canoeing Shops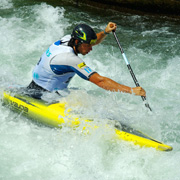 Canoeing shops are generally at their busiest during the fine summer weather, but together with the sister sport of kayaking, more and more people are taking up the sport in the autumn and spring to take advantage of higher water levels and challenging conditions. Dedicated kayaking and canoeing shops are situated all over the country, although a considerable amount of boats and equipment is also sold in online canoeing shops. Kayaking could be viewed as the more competitive of the two sports, and dedicated centres around the country hold regular events for beginners and novices.
Specialist staff in canoeing shops are usually enthusiasts themselves and are well qualified to teach the sport as well as advise on the correct equipment needed. Apart from having a boat the right size, the extra equipment of spray decks, buoyancy aids, paddles, helmets, gloves and dry suits are all items that the novice will need to acquire whilst taking up the sport. Experts will visit their canoeing shops to have repairs made on boats or to upgrade equipment that is damaged or well used.
Some of the traditional canoeing shops have kayaks and canoes that customers can try out before buying – this is a great way to make sure the boat is the right one before parting with all that hard earned cash!
BUSINESSES