Sports Sunglasses & Eyewear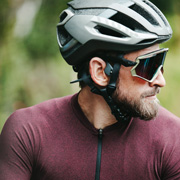 With the advent of more technologically advanced equipment being available for almost every sport, it follows that many outdoor pursuits require the use of specialist sports sunglasses and other high quality eyewear. Whether you want a fashionable pair of 'sunnies', or a serious pair of goggles for high speed winter skiing, many of them can be fitted with prescription lenses.
There are many specialist UK businesses that offer this service, some online and others through traditional outlets. Often there's a choice of optical inserts that fit behind the manufactured lens, or the direct glazed version that fits a prescription lens directly into the frame. Whether your favourite sport is cricket, climbing, cycling, golf, fishing or one of dozens of other sports, there's some specialist eyewear to suit you. Often made by well known brands like Oakley, Cebe or Bolle, the designs all take account of the sport being undertaken.
Some of them may need more secure fittings for certain physical sports; others may just need to be cool and fashionable. Whatever sports sunglasses or eyewear you choose, it's important to make sure that you're buying from a reputable dealer. Unfortunately many copies may look like the real thing, but inferior lenses can seriously damage your eyes and will not offer the right levels of protection from harmful rays.
BUSINESSES