Weightlifting Shops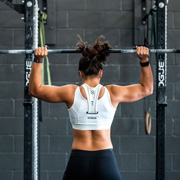 The great body building sport of weightlifting has a huge fan base right across the UK. As with all sports, using the equipment correctly is the first lesson to learn, as injuries can easily happen. The staff in weightlifting shops will all be able to advise customers, not only about the right type of equipment, but also on the correct way to use it.
Many weightlifters will use a local gym or club to work out their routines, although more and more fans are using traditional and online weightlifting shops to purchase their weights and accessories to do their training at home at times to suit them. The choice of weights is huge, and can range from the smallest dumbbells to huge barbell kits for the seriously fit weightlifters. Other equipment can include gloves, training belts, straps, collars and special footwear for extra grip and support.
Larger pieces of equipment such as a bench press are also popular for home use, and many regular weightlifters will devote a whole room in their house to their sport. There are many weightlifting shops situated all over the UK, and most of them can put their customers in touch with clubs, gyms or even other fans of the sport. They will also be able to supply books and DVDs that will explain routines, the equipment and instructions on the best ways to use it all.
BUSINESSES