Wilson Shops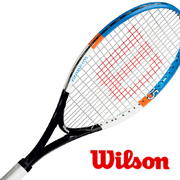 Wilson sports equipment is amongst some of the most popular gear used in many different sports activities. For the Wilson shops, tennis rackets are probably one of the most widely recognisable products, and the familiar 'W' logo can be seen on many leading tennis player's Wilson rackets. This high profile sponsorship of leading sportsmen and women extends into squash, volleyball, basketball and badminton where Wilson prominently uses their name and logo to raise brand awareness for the Wilson shops.
Wilson golf clubs are considered by many players to be the finest available, and the Wilson shops also sell their footballs, golf balls, tennis rackets and various training equipment for many other sports. The Wilson sports brand is recognised worldwide as strong and reliable - the company spends huge sums of money on research and development and this continuing investment in new technology keeps the Wilson sports name at the forefront, and ensures its continuing popularity in the Wilson shops.
The Wilson sports brand name is synonymous with high quality and reliability. This reputation ensures that customers keep returning to the Wilson shops for more equipment and clothing that also bears the famous trademark. Accessories like golf and sports bags are also important products for Wilson, who offer a great selection of colours and price ranges.
RECOMMENDED CATEGORIES

Whether you're looking for badminton clothing, rackets or other accessories, you should be able to find them all at these specialist shops.
Visit the Badminton category >>

Many basketball shops have evolved that specialise in selling equipment and clothing for the increasing numbers of players. Browse our selection here.
Visit the Basketball category >>

Footballs, boots, team shirts and much more can be found on our dedicated football sports shop page.
Visit the Football category >>

As well as the golf professional shop at many courses, specialist golf shops can also be found in most towns and cities, Check out our listers here.
Visit the Golf category >>

Browse our selection of sport shoe retailers that offer literally thousands of different brands and styles.
Visit the Sport Shoes category >>

There are plenty of squash shops supplying everything needed for this physical and competitive sport. See lots here.
Visit the Squash category >>

Tennis shops are always their busiest in the UK when Wimbledon takes place - but these shops are busy all year round.
Visit the Tennis category >>