Fishing Tackle Shops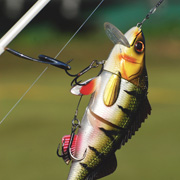 As a sport, fishing is enjoyed recreationally by millions of people worldwide, and such is the popularity that there are thousands of fishing tackle shops specialising in selling everything required for this popular pastime. Competitions both in the sea and on rivers or lakes can often have hundreds of participants who all rely on their local tackle shops for supplies and equipment.
The most dedicated fishing tackle shops all have extremely knowledgeable staff who are usually keen anglers themselves, and are happy helping newcomers to the sport to ensure they buy all the right gear. The choice of tackle is huge, both in traditional and online angling shops - and many sales are made to people upgrading or renewing their rods, reels, bags or terminal tackle.
As with all sports, practise makes perfect, and with such a huge variation in climatic or tidal conditions when fishing, anglers will often carry a selection of lines, weights, hooks, bait and lures to ensure they have the right stuff at the right time. The fishing shops keep everything required to make a fishing trip into a successful one, and although many anglers will return a fish to the water once caught and recorded, many will take their catch home and prepare a fine meal!
BUSINESSES