Rowing Shops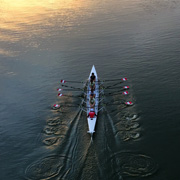 Rowing shops have capitalised on the success by UK teams in many international rowing competitions including the Olympics, and the sport is recognised as one of the fastest growing in the country. The watching visitors at the annual University boat race are a great example of the high status in which the sport is held. Online and traditional rowing shops have evolved to take account of this surge in popularity, and can sell customers any piece of equipment or clothing they need.
From a simple beachside rowing boat, to a fully equipped racing Eight, rowing can be enjoyed by people of any age. Long recognised as a sport that helps with all round fitness, rowing shops also sell an increasing number of rowing machines that are often seen in gyms, or even in a spare bedroom at home.
Many rowing clubs have sprung up on riversides or lakes, and some even run classes for the novices who are also put in touch with the rowing shops to buy their first pieces of kit. In competitions there is fierce rivalry amongst boat and equipment makers to create an edge over their opponents, and advances in the development of new materials ensures that rowing shops are kept busy supplying the very latest gear.