Skiing Shops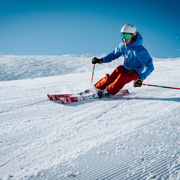 As the winter approaches, snow enthusiasts head off to their nearest skiing shop to check out the latest equipment or clothing and get ready for another season or short break holiday. Skis, bindings, ski boots and ski poles are some of the skiing shops most popular purchases, and getting the right sizes of everything is extremely important to ensure maximum safety and efficiency.
Although ski resorts in Scotland are popular, most skiers will head off to France, Austria, Switzerland, North America or Canada to enjoy their favourite sport, and a prior visit to the local skiing shop for the very latest trendy clothing is most essential! Online website skiing shops can offer vast choices of the latest ski jackets, trousers and tops, which above all must ensure that the skier feels warm and comfortable at all times.
As with all major sports, the variety of equipment is huge, and everyone will need to visit a skiing shop to purchase special hats, socks, gloves, sunglasses, goggles and even helmets to make sure they can survive whatever the weather may throw at them. Much of the equipment can also be used for snowboarding, although this off shoot of skiing demands even greater fitness and balance skills.
BUSINESSES