Helly Hansen Shops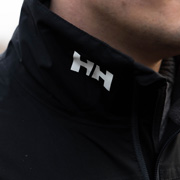 Well known as suppliers of modern hi-tech outdoor protective clothing, Helly Hansen was created in 1877 by a Norwegian sea captain of the same name. By developing oilskin jackets, sou'westers and trousers, Helly Hansen outdoor clothing was quickly recognised as the brand to have, and the present day company has continued to research and develop clothing suitable in the harshest of the planets conditions.
Used by sailors, skiers, walkers and adventurers, Helly Hansen outdoor clothing is one of the world's most popular brands of its type. Full ranges of clothing covering winter sports, water sports, outdoor sports and lifestyle are produced in three separate sections for men, women and kids. Many different technologies are employed in the manufacturing process, whether it's breathable base layers or the most water proof or cold proof jacket you can buy.
Helly Hansen is a supportive sponsor of sportsmen and sportswomen in all areas of their clothing expertise, whether it's an international sailing team or ski and snowboard individuals. Sold through a network of worldwide dealers, Helly Hansen outdoor clothing is the first choice for many people who love the outdoor life, whatever their passion may be.
RECOMMENDED CATEGORIES

There are numerous sailing shops situated all over the UK to cater for this incredibly popular sport. Find some here.
Visit the Sailing category >>

Skis, bindings, ski boots and ski poles are just some of the products stocked by these specialist ski shops.
Visit the Skiing category >>

Looking for clothing for your chosen sport? Check out our selection of specialist sports clothing shops here.
Visit the Sportswear & Teamwear category >>

There are many dedicated walking and hiking shops all over the UK that all sell everything a walker could need. Find some of them here.
Visit the Walking, Hiking & Camping category >>