Easy Runner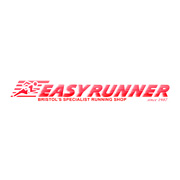 Address
6 Horfield Road, St Michael's Hill, Bristol, BS2 8EA
Telephone
0117 929 7787
About
Easy Runner is a great little sports shop located at the bottom of St Michael's Hill, just a stone's throw from the main city centre. Best known in the city for their excellent range of running shoes and equally terrific advice, the shop stocks shoes for all kinds of terrains and activities. Their range includes off-road shoes, spikes, racing shoes and supportive shoes. To complement these ranges, Easy Runner sells other running gear such as hi-visibility clothing, socks and gloves. With brands like Nike, New Balance, 1000 Mile and Adidas, there is plenty to suit all tastes.
Bristol's Easy Runner doesn't just sell shoes. They run a competitively priced sports massage service that is run by a trained massage therapist. The service is designed to prevent and treat injuries of Bristol's atheletes and hobby runners.
Customers can buy all products online with their secure checkout – but if you're based in or around Bristol we would recommend popping in and benefitting from some of their invaluation advice before taking the plunge.
Easy Runner is a Bristol sport shop that specialises in running equipment.