Archery Shops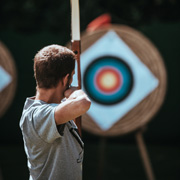 Used as a means of shooting prey since 9000BC, the use of a bow and arrow (known as archery) is still used by many people all over the world as a means of catching their quarry. In the modern world however, target archery is a massively popular sport and a huge number of specialist archery shops have evolved to feed the passion of the men and women that love to compete.
Originally made of wood, the modern bow and arrow is constructed of far more complex materials, and the specialist archery shops carry huge selections of all the latest equipment. The wide choice is created by the extensive age groups that take part, and bows can be made to cater for all strengths and ages. The knowledgeable staff in archery shops are always willing to help novices and experts with queries, and make sure that they are buying the right gear.
Archeryclubs are widespread throughout the country, and itís also taught in some schools and colleges. The archery shops will often be present at competitive events to help with repairs or the supply of replacement equipment and the specialist clothing and gloves that are worn by people competing at the highest level.
FEATURED BUSINESSES

Large selections of archery equipment from bows and arrows, to targets and stands.
Visit Silver Arrow Archery Now >>
BUSINESSES