Tennis Shops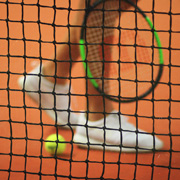 Tennis shops are always their busiest in the UK during June and July when the annual Wimbledon 'Grand Slam' Championships are held in that famous postcode address of SW19. An increasing number of indoor tennis courts means more and more people of all ages are taking up this exciting game, and all of them require equipment and clothing from a tennis shop.
The specialist staff in tennis shops are well qualified to advise individual customers about the right equipment for their particular level of play, and will gain extra sales as players upgrade their equipment. Tennis shops also often have loan rackets for customers to 'try before they buy', or will even bring them along to local tennis club evenings where the novices and experts can all try them out. Internet tennis shops will often offer bigger ranges with fast delivery and return options.
The subtle differences between one piece of equipment and another can help to make a big distinction on the court. For tennis shops there's a big market in selling the 'technology' between different brands, and all sellers will offer great choices of handle grips, string dampers, shoes, tennis balls and clothing, often sponsored by the 'big name' players.
BUSINESSES