Sports Clubs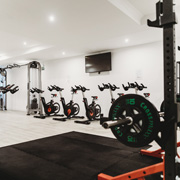 From highly prestigious tennis associations like Wimbledon to the smallest local football or hockey organisation, the UK is jam-packed full of sports clubs. There can hardly be a city, town or village in the country that doesn't have several sports represented at a local level. Each one will usually have a field, pitch or court that the players or athletes can use on a regular basis. Some better off sports clubs may even be in possesion of their own ground, and can charge their members a small fee to help maintain a clubhouse or other facilities.
Many sports players like to join a professionally run club, fitness gym or swimming pool, and these will often have extra facilities like shower rooms, cafes and bars. Whatever sports or athletic activity you partake in, joining a sports club puts you in touch with like minded individuals. Many of these clubs can also offer coaching facilities to their members, and even rental of equipment to newcomers who want to try a sport for the first time.
Basketball, darts, rowing, snooker, swimming and dozens of other sports all have local sports clubs to join. These organisations are often run by volunteer co-ordinators who have a passion for their chosen sport, and who willingly give up their free time to help others enjoy it too. Local competitions with other clubs in a town or neighbouring county are often promoted all year round; these help sportsmen and women improve their skill and fitness.