Grays Shops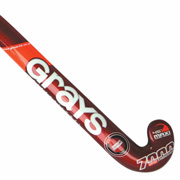 Grays hockey sticks are one of the world's best known hockey brands, and are the leading choice for many hockey players all over the world. At the forefront of development during radical hockey rule changes, Grays hockey sticks are almost works of art in their perfection. By supplying hockey sticks in a choice of lengths, weights, blade and headshape profiles, Grays hockey sticks appeal to a wide range of players from schools, and local clubs and right up to top internationals.
Not content with making the best hockey sticks, Grays also supply a formidable selection of clothing and protective wear. Goal keepers are well catered for with gloves, pads, boots, chest & throat protectors, as well as helmets and hand guards. The hockey players also have a good choice of Grays shin guards, mouth & face guards plus several different styles of gloves.
Grays hockey clothing includes men's and women's teamwear as well as items for training, and with a great choice of hockey balls, Grays have everything for the hockey world well covered. No hockey player's kit is complete without a Grays hockey bag to carry it all about in, and these can be bought in a holdall or backpack version.
RECOMMENDED CATEGORIES

The best hockey shops keep good selections of all the sticks, balls, protective equipment and clothing that you will need. Find some here.
Visit the Hockey category >>