Snooker & Pool Shops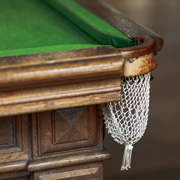 Children often start playing snooker or pool when they are given a small table for a birthday or Xmas present. This initial interest is often carried on into adult life and the popularity of snooker in particular has never been higher. Specialist snooker and pool shops will sell anything to do with both games, from a full size table to a pack of cue chalk, and everything in-between.
As with all sports, there is a vast difference in price between top-of-the range equipment sponsored by top snooker and pool players, and beginnerís basic kit which will enable the novice to get off to a great start. The snooker and pool shops are usually run by knowledgeable staff that are probably all keen players themselves and are well placed to offer good advice. Many players join snooker or pool clubs, so their only initial outlay will be their own cue which is often a prized possession.
With the annual World Snooker Championship always held in the UK, the snooker and pool shops usually have a huge surge of interest in March and April leading up to the event. Held at the famous Crucible Theatre in Sheffield, the event is avidly followed on TV by millions of people worldwide. The Pool world championship is often held in Blackpool in Lancashire, in June every year.