Paintballing Shops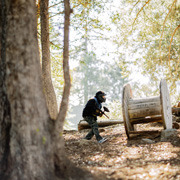 What a great sport! Paintballing offers anyone the opportunity to take up a gun, blast your opponent, and no-one comes to any harm. A popular activity for kids birthday parties, paintballing is a serious sport practised by adults as well, with many professionally run paintball centres located all over the UK. Apart from the obvious guns and ammo, fans of the sports can also buy from a huge range of safety equipment and extra accessories.
Protective clothing and eye masks are vital pieces of paintballing safety equipment, along with sturdy footwear and helmets. The best selections of equipment can be found in online paintballing shops, although many traditional sports stores offer a selection of apparatus and clothing to get fans started.
Coming under the classification of Ďair weaponsí, a paintball gun can deliver a hefty knock, and in the UK itís illegal to carry one in a public place. Popular brand paintball merchandise includes gear made by Eclipse, Hater, JV, Proto, Valken and many others. Local paintballing arenas always have a good supply of ammunition, but check out the specialist stores for a great range of paintballing equipment.
BUSINESSES