Table Tennis Shops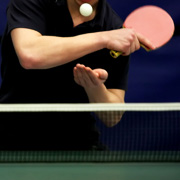 Most kids are introduced to the sport of table tennis at school, and many will be lucky enough to have a table at home that will have been purchased from a table tennis shop. These can vary a lot in price, but most a foldable, have wheels for easy moving, and some will even be weatherproof to be left outside.
Table tennis shops specialise in everything to do with the sport, selling everything needed including bats (sometimes known as blades), balls, scoring equipment, special table tennis clothing and even instructional books and DVDs. Some sports shops can now even supply a robot against which players can practise their skills. These can be programmed in a variety of ways that can create a mixture of shots to practise against.
Invented in England in the 19th century, and classified as an Olympic sport since 1988, table tennis is now classified as the world's largest participation sport, with over 40 million people worldwide regularly playing it on a competitive basis. There are plenty of table tennis shops all over the country, both online and in traditional bricks and mortar buildings, to cater for this incredibly popular sport.
FEATURED BUSINESSES

Sells professional table tennis tables alongside pool tables and snooker tables.
Visit Cheeky Monkeys Sports Now >>
BUSINESSES