Reef Shops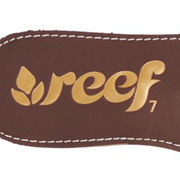 Calling themselves a 'core surf company', Reef was established by two keen surfing brothers in California in the early 1980s. As a leading lifestyle brand, Reef sandals, shoes and flip flops are sold all over the world, and along with clothing ranges, are more popular than ever. A huge number of Reef sandal and shoe designs are at the centre of the company's business, and massive investment in new materials and manufacturing techniques ensures that Reef products stay ahead of the opposition.
Reef shops are situated all over the UK as well as around the world. Not just confined to surfing resorts, the brand can be bought in almost any leisure outlet, and together with a great range of men's and women's clothing, Reef shoes and sandals are some of the most popular available. Part of Reef's success is down to the amazing 'Miss Reef' advertising campaigns - initially rejected as too risqué, millions of worldwide fans are eager to see the new model images each year.
As a clothing brand, Reef board shorts, t-shirts, swimsuits and accessories are trendy and affordable, and with new products being constantly introduced, Reef shops are ensured a bright future with this fantastic surfing brand.
RECOMMENDED CATEGORIES

Browse our selection of sport shoe retailers that offer literally thousands of different brands and styles.
Visit the Sport Shoes category >>