Rugby Shops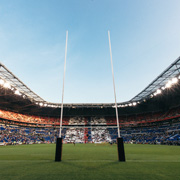 Rugby is sometimes unfairly seen as the superior sport to football, but its increasing popularity as a playing and spectator sport ensures that the online and traditional rugby shops are kept busy supplying all the latest equipment and clothing. As with football, fans will often want to buy replica kit of all their favourite players, and the rugby shops will always benefit as new colours or sponsors change each season.
The sport of rugby gets good TV coverage, and this helps to promote it to new and established fans. Many kids will choose a rugby ball in preference to a soccer ball, and these will nearly always be purchased from a rugby shop, who can supply them in mini sizes and weights for the younger children. Adults love to buy new rugby boots and other equipment to make sure they have the very latest fashion, whether playing or just watching.
Rugby boots are probably the only piece of kit that can make a difference to the players' performance, other than extreme levels of fitness, and rugby shops are always ready with the latest lightweight designs to offer their customers.
BUSINESSES