Extreme Sports Shops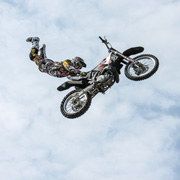 Extreme sports shops are specialists at selling equipment and clothes for some of the most amazing and adrenaline filled sports on the planet. These can include bungee jumping, caving, climbing, sky diving, base jumping, go-karting, motocross and plenty more besides. Extreme action is a requirement by millions of active and fit young people in search of the ultimate thrill or scare, and extreme sports shops are quick to adapt to the latest and newest crazes that are developed and devised to test the participants.
Safety is paramount in any extreme sport, and whatever a participants particular thrill, the extreme sports shops will make sure they have all the right gear. The kit for any sport can be as cheap or as expensive as the purchaser can afford, and the online or traditional extreme sports shops will usually sell a great variety and selection to suit most budgets.
Whilst there is great debate on the meaning of an extreme sport, anything that puts the participant into a higher danger level than that accepted in a 'normal' sport, is a widely accepted criteria. Apart from the supply of essentials from the extreme sports shops, many of these activities are the subject of TV shows, documentaries or even films.
BUSINESSES