Salomon Shops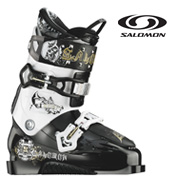 Started in France in 1947, the Salomon brand has become synonymous with high performance sportswear and equipment for many different mountain sports, whether snowboarding, mountaineering, skiing or even adventure racing. Research and development in new technologies and materials means that Salomon are at the cutting edge of making products that perform well, are comfortable to use and are extremely hard wearing.
For accomplished skiers, Salomon make skis, poles, boots, bindings and helmets, as well as some highly functional skiwear and storage bags, with similar ranges for snowboarders. The right clothing is so important for extreme mountain conditions, and Salomon produce technical layers, shirts, jackets, headwear and hoodies.
Itís so important to wear the right footwear for trial running, hiking or backpacking, and Salomon are the experts at making all the right gear. With a massive selection to choose from, men, women and kids should all be able to find something that fits, and more importantly is fantastic value for money. Salomon is the brand of choice for millions of fans of outdoor pursuits, and they can be purchased in a wide variety of sports retailers.
RECOMMENDED CATEGORIES

Skis, bindings, ski boots and ski poles are just some of the products stocked by these specialist ski shops.
Visit the Skiing category >>

Browse our selection of sport shoe retailers that offer literally thousands of different brands and styles.
Visit the Sport Shoes category >>

Looking for clothing for your chosen sport? Check out our selection of specialist sports clothing shops here.
Visit the Sportswear & Teamwear category >>