K2 Snowboard Shops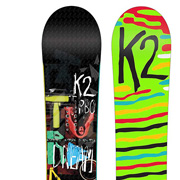 Named after the second highest mountain on the planet, K2 make some of the world's finest ranges of snowboarding equipment and accessories – not that K2 necessarily has the best slopes for the sport! Awesome images and graphics are applied to the K2 snowboards to make them some of the best on the market, and with great names like Gyrator, Darkstar, and Va Va Voom, who wouldn't want to own one?
The snowboards wouldn't be complete with some K2 boots to match, and with a great choice of different bindings available, purchasers can be sure of getting the right setup for their individual needs. K2 sponsors some of the world's finest men and women's snowboarders – not chosen just for good looks, but raw ability too, and their success in competitions around the world speaks for itself.
All of the equipment can be bought in a mixture of K2 shops – some traditional 'bricks and mortar' stores as well as the increasingly popular online versions. Whatever outlet customers choose, they can be sure that K2 snowboards will give them a great ride at a great value price - what more could you ask?!
RECOMMENDED CATEGORIES

These snowboarding shops offer big choices of equipment and clothing, often made by some of the big-name sports brands.
Visit the Snowboarding category >>