Polar Shops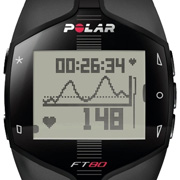 With their products sold in over 80 countries worldwide, Polar heart rate monitors are used by athletes from all sports disciplines to help them improve their fitness and to maximise their overall performance. A huge range of products for every conceivable situation has made Polar sports monitors the preferred choice for participants in almost every sport.
By having a full understanding of the way an individualís body works, and especially the effect of exercise upon the heart, Polar has developed a variety of heart monitors for different situations. Miniature electronics enables Polar to pack a huge number of monitoring types into each item, whether itís worn on the wrist, chest or arm. Some of these devices can then transmit information about the current exercise to the monitor to display a variety of results.
In cycling for example, a Polar monitor can not only measure heart rate but also pedalling rates with comparisons against previous sessions. Polar sports equipment monitors are made to the highest standards and are able to withstand repeated use in harsh conditions. Runners use Polar to measure their calories burned as well as aerobic fitness by providing a series of comparisons and measurements of how they are improving.
RECOMMENDED CATEGORIES

Keeping fit has never been more popular - and there are thousands of keep fit shops situated all over the UK.
Visit the Keep Fit category >>

These specialist running shops have been set up to supply clothing, accessories and expert advice for runners of all abilities.
Visit the Running category >>