Squash Shops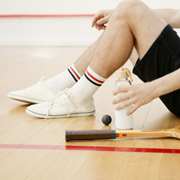 Squash is one of the three great racket sports that also includes tennis and badminton. Plenty of squash shops will be able to supply everything needed for this highly physical and competitive sport, and a great selection of high street and online squash equipment sellers will always have good deals on the squash rackets, balls and clothing that are required by all the players.
Getting its name from the 'squashable' balls that are played with, squash is still not quite up there with tennis and badminton as an Olympic sport, and remains right at the edge of being selected. Squash shops are great places for all levels of players to get information and details about squash clubs and tournaments that are taking place in their area. As with all sports, the sheer number of accessories that squash shops sell can be quite daunting, but if customers stick to a budget, they should be able to find everything they need.
Squash rackets, squash balls, squash clothing and shoes are the bare minimum requirements, and the squash shops will also sell eye protectors, grips and training accessories as well as a number of books that have been written on the subject.
BUSINESSES