Sports Clinics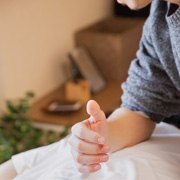 With a marked trend in the number of people in the UK that participate in some form of sport, itís no surprise that the number of sports clinics is also rising. Sports injuries are an unfortunate and unwelcome fact of life, but with modern techniques of treatment, sportsmen and women can soon be back playing their favourite sports.
For an injured athlete, the first port of call will often be to a sports clinic – qualified physiotherapists will assess a patientís injury and recommend a suitable course of treatment. This can often include massage of the affected areas, although sometimes the sports clinic will recommend a visit to a doctor, especially if they think that surgery may be required. On occasions, treatment from a qualified chiropractor or osteopath will be appropriate.
There are thousands of sports clinics situated in every major town or city in the UK – some will specialise in treating specific areas of the body, whereas others have a more general approach to all types of injury. After a course of treatment, a sports clinic may even recommend a personal trainer to help strengthen a patients specific set of muscles, or to just help overall fitness, thus improving the chances of staying injury free.
BUSINESSES