Horizon Fitness Shops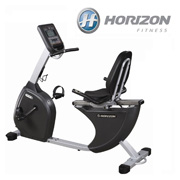 As part of the huge global Johnson Corporation, Horizon produces some of the finest fitness machines on the market. Well known for providing excellent value for money, Horizon sports equipment covers beginner to experts with a large range of products to suit all budgets. Aimed firmly at the home market, items like exercise bikes, treadmills and rowers are some of the most popular.
Horizon Fitness shops are located all over the UK, and many of these will be able to supply goods by mail order or via the internet, although many of the traditional stores will have items on display for the all important 'try before you buy' situation. Popular vibration plates have revolutionised exercise, and Horizon Fitness versions are perfect for use in the home - with a small floor footprint, they really can be squeezed into a little space.
Horizon rowing machines and elliptical trainers are all quiet and simple to use, as well as being extremely reliable and comfortable. With different versions available, there's no excuse to sit on the sofa and not get fat burning! Reliability is important with any type of machine with moving parts, and Horizon Fitness sports equipment comes with a minimum of two years warranty and in some cases a lifetime guarantee on the frames.
RECOMMENDED CATEGORIES

Keeping fit has never been more popular - and there are thousands of keep fit shops situated all over the UK.
Visit the Keep Fit category >>