ASICS Shops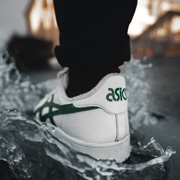 Japan based ASICS company makes professional sports equipment and footwear for many different sporting activities. The ASICS shops will keep gear for many different sports including running, football, cricket, golf and volleyball as well as the popular racket sports of tennis, badminton and squash. As with all major sports suppliers, constant research and development means that their ASICS shops will always offer the very latest innovative designs.
Whilst shoes are a major part of ASICS product ranges, the ASICS shops will also sell the huge selections of running clothing which has been designed for maximum comfort and style. This includes shorts, shirts, trousers and tops in a variety of fabrics and colours. The ASICs distinctive logo is always built into their designs, and is vitally important for improving the company sales through the ASICS shops.
The ASICS website states that their name 'stands for "Anima Sana in Corpore Sano", a sound mind in a sound body - a Latin phrase expressing the ancient ideal of a sound mind in a sound body.' This philosophy is extended into everything they do to promote sport as a whole, and to assist the ASICS shops to sell more of their products.
RECOMMENDED CATEGORIES

Whether you're looking for badminton clothing, rackets or other accessories, you should be able to find them all at these specialist shops.
Visit the Badminton category >>

Purchasers of cricket kit are spoilt for choice whether buying from traditional cricket shops or those who trade purely on the internet. See our selection of stores here.
Visit the Cricket category >>

Footballs, boots, team shirts and much more can be found on our dedicated football sports shop page.
Visit the Football category >>

As well as the golf professional shop at many courses, specialist golf shops can also be found in most towns and cities, Check out our listers here.
Visit the Golf category >>

These specialist running shops have been set up to supply clothing, accessories and expert advice for runners of all abilities.
Visit the Running category >>

Browse our selection of sport shoe retailers that offer literally thousands of different brands and styles.
Visit the Sport Shoes category >>

Looking for clothing for your chosen sport? Check out our selection of specialist sports clothing shops here.
Visit the Sportswear & Teamwear category >>

There are plenty of squash shops supplying everything needed for this physical and competitive sport. See lots here.
Visit the Squash category >>

Tennis shops are always their busiest in the UK when Wimbledon takes place - but these shops are busy all year round.
Visit the Tennis category >>