Brooks Shoe Shops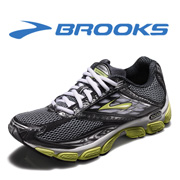 With a tagline of 'World's Finest Running Shoe. Since 1914', Brooks continues to design and manufacture some of the finest high performance running shoes and clothing for men, women and kids. Runners of all abilities love the stability, motion control and comfort that Brooks running shoes brings them, and with availability of a massive selection of widths and sizes, there's sure to be a Brooks shoe to suit almost anyone.
New technologies in materials and manufacturing techniques helps Brooks to continually tweak their designs, and with various patented systems they are one of the global leaders in running footwear. Brooks shops can be found all around the globe with plenty of internet sellers too. A whole series of Brooks apparel especially designed for running, not only looks good, but is functional as well. A variety of shorts, long trousers, tops and jackets in trendy designs and colours are complemented by a range of accessories like Brooks caps, socks, gloves and bags, plus the all important reflectors for night running.
There's no doubt that Brooks running shoes are fighting for space in a very competitive market, but with such a strong history and a commitment to make the finest products at the best possible prices, Brooks will continue to flourish and excite their millions of worldwide fans with new and stimulating developments.
RECOMMENDED CATEGORIES

These specialist running shops have been set up to supply clothing, accessories and expert advice for runners of all abilities.
Visit the Running category >>

Browse our selection of sport shoe retailers that offer literally thousands of different brands and styles.
Visit the Sport Shoes category >>