Abseiling Shops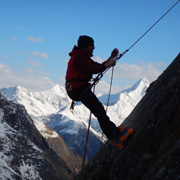 Often undertaken by groups of volunteers for charity fundraising, abseiling down the side of a tall building under strict safety conditions is not really what the sport is all about. Sometimes known as 'rapping', 'rap jumping', 'rapelling' or just 'abbing', climbers mainly use the abseiling technique to make rapid descents from otherwise dangerous or steep cliffs.
As with most sports, there's a huge range of abseiling equipment and clothing specifically designed for the purpose. Harnesses, helmets, gloves, boots and knee pads are pretty much all that's required for body protection. Reliable equipment is paramount for safety, and there are many different types of ropes, anchors, camming devices and mechanical friction descenders available from a variety of abseiling suppliers.
Abseiling equipment is really just an extension of climbing gear, and can usually be purchased in climbing shops. However, some specialist online suppliers sell a bigger and better selection. Sometimes carried out by more daring enthusiasts in a forward facing position, the majority of fatalities from abseiling can be attributed to weak anchor points. Experts always advise the thorough checking of all abseiling equipment before setting off on a descent.