Mountaineering Shops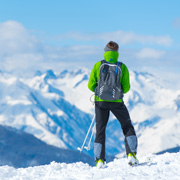 Whilst mountaineering is considered by many people to be the most dangerous activity on earth, having the right equipment and training helps to minimise the risks. It takes many years of experience at lower levels before a mountaineer can feel confident to tackle the highest mountains in the world. Many 'outdoor activity' retailers sell a selection of clothing and equipment suitable for the sports, whilst some specialist mountaineering shops offer the very best equipment available.
Operating at high levels brings many challenges; ice and snow, high winds, extreme cold and exhaustion. The right mountaineering equipment is vital to ensure maximum safety; whilst ropes, crampons, harnesses, carabiners, helmets and boots might sound like an expensive list, it's by no means exhaustive.
Many traditional mountaineering equipment shops are situated in higher parts of the UK, although a number of online retailers offer a great selection of gear that can be delivered straight to your home. All mountaineers will have started climbing on small local rock faces and will be familiar with many of the challenges this brings. Climbing sports instructors have a passion for the activity, and are keen to encourage youngsters to take up the adrenaline fuelled sport of mountaineering.