Darts Shops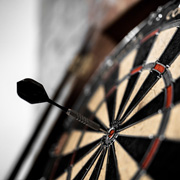 The UK was the first country to recognise darts as a sport, and has produced many champion players since the foundation of the British Darts Organisation in 1973. Such is the popularity of the modern game, there are many specialist darts shops both traditional and online that cater for the huge number of amateur and professional players. Long seen by many as just a game to play whilst having a pint at the local pub, the top class players are highly skilled people who practise for hours on end.
The darts shops have great selections of darts, flights, dartboards, cabinets and mats, as well as clothing, posters and badges, and as in all sports, brands are an important part of being seen to have the right gear. Many darts matches are televised which helps the darts shops to capture new customers, in addition to the keen players who want to upgrade their equipment.
Many darts players will join local competition leagues, and the dedicated darts shop staff are always keen to advise and help these participants, as well as showing them the latest top player named darts and flights. Definitely not just the preserve of males, darts is often played by ladies, and many kids will grow up having played on a junior board hung on the garage wall.
BUSINESSES