Climbing Shops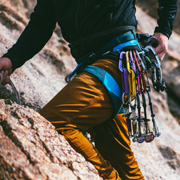 Climbers ascending steep mountain faces or children playing on a climbing frame in the garden both require the dextrous use of hands, feet and body to ensure safe ascent to the top. Serious climbers of all ages will visit their local climbing shops to see and handle the equipment need to climb a nearby rock formation or make an ascent of Mt.Everest.
Several climbing activities such as bouldering and canyoning as well as ice, net or rope climbing are covered by this sport that is gaining popularity all over the world. All this activity requires the specialist climbing shops to provide knowledge and the right equipment for climbers to enjoy and be safe in their sport. Safety of course is paramount in whatever climbing activity is undertaken, and the climbing shops are best placed to advise on the right ropes, footwear, clothing, helmets and other gear that will be required before starting out.
Equipment can make a huge difference to the participants in any sport, and the specialist staff in traditional climbing shops or the online retailers will all be keen to help and advise new and existing customers. Climbing competitions are regularly held all over the UK, and newcomers to the sport would be well advised to visit one of these events to learn before they try themselves.
BUSINESSES