JanSport Shops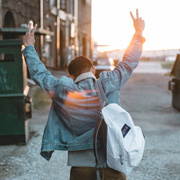 Established in the USA in the early 1970ís, JanSport is now a global brand leader in designing and manufacturing hundreds of different backpack type products to help people travel to school or around the world! By building flexibility into their backpacks, JanSport enable people to use them for a variety of different tasks.
Some of JanSport backpacks are equipped with wheels, extending handles, carrying straps or any other fitting that makes it easier to carry gear from one place to another. Different sizes, colours and weights ensures that customers have the biggest choice available – whether they want to go for a walk in the park or woods, go shopping, or just carry a precious laptop to work. JanSport backpacks have a solution for almost every conceivable travel situation, and are widely available throughout the UK.
A variety of JanSport accessories are available too: purses, pencil cases and waist packs all help to make the travelling solution complete. By investing heavily in research and design, JanSport are constantly making new variations of their backpacks and introducing new colours and materials. Limited edition versions of JanSport rucksacks are popular with some customers, and the heritage designs reflect the companyís history whilst being made of modern materials.
RECOMMENDED CATEGORIES

There are many specialist backpack shops that exist to offer great choices and ranges to their customers. Find some here.
Visit the Backpacks category >>