Equestrian Shops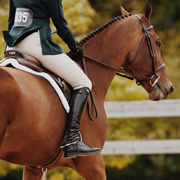 The art of equestrianism is simply the skill of driving or riding horses, and from that has come some of the competitive equestrian sports of endurance, racing, dressage, show jumping and eventing, the latter three of which are all Olympic events. Equestrian shops however do not just supply the top riders with their equipment – they are used by people from all walks of life who may just simply enjoy a horse ride across moors and heath land, or a canter through fields and the countryside.
Whatever riders need, equestrian shops can supply, and the choice of saddles, harnesses, bridles, stirrups and clothing is enormous. Like any sport, the gear needed can vary from simple to very sophisticated and expensive, but the online and traditional shops are well placed to offer equestrian equipment for every budget.
The care of the horses is paramount for riding enthusiasts, so the equestrian shops also sell horse rugs, exercise sheets, fly masks and body wraps as well as various cleaning solutions, wipes and even ice gel to soothe weary limbs. The riders have huge choices of equestrian clothing, hats and boots, many of them promoted with big brand names.
BUSINESSES