Ice Hockey Shops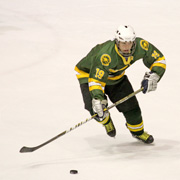 Ice hockey is a fast moving contact sport with players sometimes travelling at speeds of up to 30 miles an hour. Exciting to watch and play, and in spite of fantastic protective equipment, injuries can and do occur. Competition play is governed by Ice Hockey UK, and with many ice hockey centres all over the country, there are a growing number of traditional and online ice hockey shops to cater for the growing demands from players and spectators for all the latest clothing and equipment.
The ice hockey blades are one of the most important pieces of equipment, with well respected brands like Bauer and Nike producing some of the finest skates available. A specialist ice hockey shop will normally have enthusiastic and knowledgeable staff who can advise their customers on all the equipment they will need. This will include sticks, and the all important protective gear to help absorb the worst crashes.
The UK's National Ice Centre in Nottingham is just one of many ice hockey locations throughout the country, and encourages youngsters from as young as under 10 to take up the sport. Ice hockey shops can help customers with advice on the clubs and venues as well as the right equipment for beginners who may be on a low budget.