Sport Shoe Shops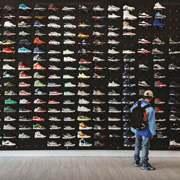 Dedicated sports shoe shops can be found in almost any town in the UK, and with so many different sports to choose from, the ranges and selections can be quite daunting. Hundreds of online sports shoe shops also specialise in many different brands and styles, with quick delivery and great returns options if they shouldn't fit.
Almost all of the national sports shop chains will have a good selection of footwear, but for the best advice, mixture and value it's hard to beat a committed sports shoe shop for the best service available. With the introduction of individual footwear for almost every sport, many keen sportsmen and women will have several pairs available to swap from running, to tennis or to squash. Advanced lighter materials as well as methods of manufacture means that sports shoes have never been more comfortable to wear and use.
The sports shoe shops whether online or traditional will all have a selection of the great brands like Nike, Adidas, New Balance or Asics, as well as many more. With a terrific range of colours and sizes as well as width fittings, there has never been a greater need for the specialist advice from an individual sports shoe shop.
BUSINESSES