Shops selling Walking, Hiking and Camping Gear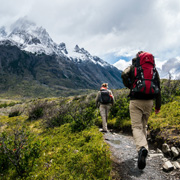 Whilst walking is an everyday activity undertaken by almost everyone in the world, the more specialist hiking, often takes walkers far out into the countryside to explore and travel over unfamiliar and sometimes rough terrain. There are many dedicated walking and hiking shops all over the UK that all sell everything a walker could need.
Most day hikers will need a good pair of walking boots, a rucksack and the right outer clothing if the weather should turn inclement. Walking and hiking shops keep great selections of all this equipment, as well as stuff like GPS systems, maps, lights, energy giving snacks and the important layers of clothing to keep dry and warm. Those travellers planning to stay out at night will also need tents, cookers, sleeping bags and a change of clothing in case of accidents. Whilst many customers like to visit a traditional hiking shop, many also buy from the online specialist shops that offer huge choices of brands and equipment.
Walking and hiking shops whether traditional or online, will nearly always have specially trained staff on hand to help customers with advice on the right footwear, clothing or equipment to buy. With sophisticated manufacturing techniques and modern materials, not only is there a huge choice of products but also at prices to suit all budgets.
BUSINESSES