Maximuscle Sports Nutrition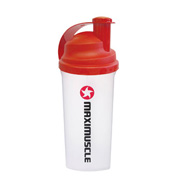 Proudly claiming to be 'Britain's No.1 Sports Nutrition Company' Maximuscle make an impressive range of products to help with losing fat, increasing muscle and improving energy levels that have been lost by combinations of bad diet and lack of regular exercise. Maximuscle sports nutrition supplements are used by millions of athletes in the UK, and are designed to be sensibly used in combination with a healthy diet and whatever exercise a person prefers – running, cycling, weight lifting, body building or swimming to name just a few.
All of the supplements are available in different forms such as capsules, meal bars, sachets or even drinks to replace lost fluids during heavy exercise. In addition to all the Maximuscle sports nutrition supplements, they also sell a whole range of exercise accessories designed to help make the most of that important work out time – items such as abdominal slings, leather gloves, neoprene belts, knee straps or wrist supports. Clothing is included in the ranges too, with beanie hats, polo vests baselayers in both tops and leggings.
All Maximuscle sports supplements are manufactured to the highest standards, and are batch tested to ensure that they do not contain any banned substances. The Maximuscle website if full of research information on supplements and health, with downloadable meal planners and diet plans to help with an overall fitness regime.
RECOMMENDED CATEGORIES

Sports supplements are widely used as effective and legal aids to boost performance. Find shops selling them here.
Visit the Sports Supplements category >>

The staff in weightlifting shops will all be able to advise customers not only about the right type of equipment, but also on the correct way to use it.
Visit the Weightlifting category >>