Adidas Shops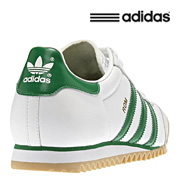 Second only in size to Nike in global terms, Adidas is the largest manufacturer of sportswear and sports shoes in Europe. Their distinctive logo is prominently placed on all their clothing and shoes that can be seen in the thousands of Adidas shops around the world. Sports shoes are a huge part of the Adidas collections, and are made for many different sports including tennis, golf, football, running, cricket and basketball, as well as rugby, lacrosse and gymnastics. Adidas shops keep terrific selections for all these sports and in all the popular sizes.
Adidas shops also focus heavily on football kit and other associated equipment such as footballs and footwear. The Adidas company use sponsorship of teams and players to increase the exposure of their brand name and products in a fiercely competitive market. In addition, many of the Adidas shops will sell a selection of the huge range of jackets manufactured by Adidas.
These cover sports like skiing or other outdoor pursuits, and include trendy and fashionable track suit tops made of all the latest lightweight, waterproof and colourful fabrics. Adidas shops will also sell the latest swimwear for men and women that includes accessories like goggles and waterproof footwear.
RECOMMENDED BUSINESSES

Scots-Sport
Comprehensive stock of sports clothing and footwear as well as bowling footwear and equipment.
Read more about Scots-Sport >>