Uhlsports Shops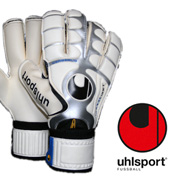 Founded in Germany in 1948, Uhlsport is an important manufacturer of mainly football equipment. Originally focussing on goalkeepers clothing and gloves, Uhlsport football gear is widely used by anyone from school children to top team professionals. Using the slogan 'Grass is our playground', Uhlsport makes stuff for individual players including goalkeepers, as well as a whole range of tops, shorts and jackets for teams.
In addition to the clothing, Uhlsport football equipment includes everything needed to play the game. This includes footballs, protective pads, footwear, goalkeepers and player's gloves as well as kit bags and training equipment. As with most large companies, it's an ongoing process of constant research about new materials and technologies to make the Uhlsport teamwear and football gear better and more cost effective. With a history steeped in making football studs and leather soles for many different branded shoes, Uhlsport know exactly the direction they are going in.
A retail dealer network across all continents shows that Uhlsport is a truly global company, and also means that Uhlsport shops are available to large populations. In several European countries they even sponsor football training schools. By providing Uhlsport football equipment and clothing in a wide range of sizes and styles, they have ensured they will be top of the game for a very long time.
RECOMMENDED CATEGORIES

Footballs, boots, team shirts and much more can be found on our dedicated football sports shop page.
Visit the Football category >>