Oakley Shops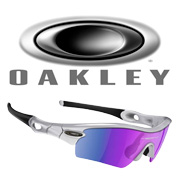 Created by Jim Jannard from his garage in 1975, Oakley has grown into one of the world's leading fashionable brands of premium eyewear. Getting its name from Jim's dog, an English Setter, the Oakley company design and sell an extraordinary range of sunglasses, ski goggles, prescription glasses and sports visors. Their name is also associated with other sports equipment such as backpacks, watches, shoes and clothing.
For many people, the name is most synonymous with Oakley sunglasses. Their constant research and development keeps them at the forefront of developing new manufacturing techniques for frames and lenses, all of which carry the distinctive oval Oakley logo. The whole of the USA Olympic team were sponsored by Oakley during their challenges at the London 2012 Olympic Games.
By sponsoring dozens of top class athletes from many countries, Oakley ensures that their name and designs are continually promoted to their existing and potential customers Watch out for sportsmen and women like golfer Rory McIlroy, racing driver Kimi Raikkonen, runner Oscar Pistorius and beach volleyball player Kerri Walsh Jennings, all of whom wear distinctive Oakley eyewear.
RECOMMENDED CATEGORIES

Looking for clothing for your chosen sport? Check out our selection of specialist sports clothing shops here.
Visit the Sportswear & Teamwear category >>