Crocs Shops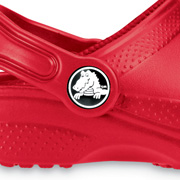 When they first hit the footwear scene in 2002, Crocs shoes quickly became one of the fastest selling brands of shoes ever released. Not only were they extremely colourful, but also their highly original design was coupled with supreme comfort thanks to a newly developed 'spongy' material known as Croslite. It wasn't unusual for many Crocs shoe wearers to buy several different colours to match various outfits, and kid's versions quickly followed when it became clear they wanted to be as trendy as their parents for a change!
Crocs shoes are not only comfortable, lightweight, non marking and odour resistant, but also have excellent gripping properties. Naturally many other companies have tried to copy the unique Crocs shoes, but none are as successful as the original. Crocs quickly developed Jibbitz, those trendy little decorations that clip into Crocs shoes ventilation holes. Many of the designs are aimed at children, but an increasing number of adult themes like flowers, bugs and flags are increasingly popular.
With thousands of worldwide outlets selling Crocs shoes, the company continues to invest in new designs and offers a huge array of shapes, colours and sizes for men, women, boys and girls. The kid's versions incorporate many funky character designs, and ladies versions even include flat, high heels and boots! There's no doubt that Crocs shoes are the brand of choice for millions of customers around the globe.
RECOMMENDED CATEGORIES

Browse our selection of sport shoe retailers that offer literally thousands of different brands and styles.
Visit the Sport Shoes category >>