Windsurfing Shops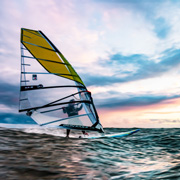 Invented in 1948, and classified as an official summer Olympic sport in 1984, windsurfing (sometimes known as sailboarding) is one of the most popular water borne activities in the UK. By combining elements of surfing and sailing itís a little tricky to learn, but once mastered, participants are soon performing spins, loops, jumps and many other freestyle stunts. Carried out in coastal regions and large inland waterways, thereís plenty of windsurfing shops that offer equipment, lessons and advice.
Whilst it may be a little simplistic to say that all you need is a board, mast and sail to go windsurfing, there are a huge number of combinations to ensure you tailor a windsurfing equipment package to suit you. Specialist retailers offer an endless selection of gear, and some of them will hire equipment for you to try before you buy. In the UK, windsurfers will normally wear a wetsuit to keep warm, but in warmer climates a swimming costume is all thatís needed.
Extreme sports lovers are often looking for different challenges, and many windsurfers also have a go at the increasingly popular kitesurfing. Boards are similar, but the sail is replaced by an inflatable aerofoil. Whichever sport you choose, thereís a great choice of traditional and online windsurfing shops to help with all the right gear.
BUSINESSES