Burton Snowboard Shops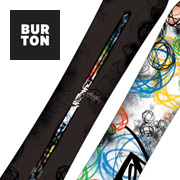 Founded in the USA in 1977, Burton has become the largest snowboard brand in the world, not only selling the hardware, but loads of other gear as well. Founded by Jake Burton Carpenter and still privately owned by him, Burton snowboards are used by millions of amateur and professional snowboarders all around the globe, and many of the sports top performers are sponsored and supported by the company.
Burton owns other brands like RED, Anon Optics, Gravis and Analog, as well as Channel Islands, one of the world's best known surfboard makers. But its Burton snowboard equipment and accessories that are still the main thrust of the business. With dedicated Burton shops in many countries and other online stores having access to many of their products, Burton clothing, boards and accessories are widely available.
Great graphics play a big part in Burton's snowboard sales, and with over a hundred new ones added every year, it's no wonder that they are so popular. The company's boots, bindings, jackets, fleeces, gloves and hats are just as important for the complete Burton look, with options for men, women and kids. Burton shops are located all over the UK, and with snowboarding available all year round in different countries, there's no excuse not to hit the slopes.
RECOMMENDED CATEGORIES

These snowboarding shops offer big choices of equipment and clothing, often made by some of the big-name sports brands.
Visit the Snowboarding category >>