Lonsdale Shops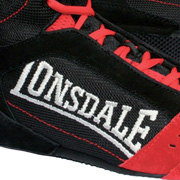 Founded in the UK in 1960, the name Lonsdale has become a by-word for anything to do with boxing. The company has changed ownership since its formation, and although still primarily boxing based, other clothing for sports like football and rugby have been introduced. Many sports shops whether traditional or online sell Lonsdale equipment and clothing, and itís the brand of choice for many aspiring boxers.
A huge choice of Lonsdale items are available at various different price points to cover all budgets. The minimum equipment requirements for a boxer are shorts, vests, footwear, head protection and of course boxing gloves – Lonsdale shops can offer their customers terrific ranges of all these items and much more. Training equipment like punch bags, shields and body protection are important for those learning the sport, and Lonsdale also make complete boxing rings, gym fitness equipment and even nutritional supplements to help boxers achieve maximum strength.
The Lonsdale Belt is well known in boxing circles as the prize awarded to British champion boxers. Originally introduced by Lord Lonsdale the first president of the National Sporting Club, these belts are a symbol of everything boxing, and have helped to lift the Lonsdale brand to the highest levels of popularity. Lonsdale shops are assured of a successful future whilst boxing remains one of the top world sports.
RECOMMENDED CATEGORIES
Numerous online boxing shops have been set up to supply all of the equipment and clothing required. See our selection here.
Visit the Boxing category >>

Looking for clothing for your chosen sport? Check out our selection of specialist sports clothing shops here.
Visit the Sportswear & Teamwear category >>