Surf Shops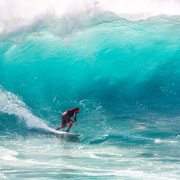 Surfing is one of the UKís most popular sports, and many participants will travel hundreds or thousands of miles to find the right conditions. In Devon and Cornwall there are probably the greatest concentration of surfing shops in the UK, all selling the latest boards and accessories, as well as the all important surfing clothes. Surf shops are at the forefront in selling the most technologically advanced board designs and most importantly – the coolest graphics!
All surf equipment can be bought online or in traditional surfing shops, and vast ranges of accessories ranging from board wax to some great protective bags are always in demand. Wet suits are top of the must-have lists and surfing shops will all sell suits of varying thicknesses and quality for different seasons – cold water is no longer a barrier to participation, even on the coldest winter days.
Surfing shops will also always have terrific accessories sections where surfers can buy the latest boots, head gear, gloves, and leashes. The laid back surfers will often spend hours will often spend days hanginí out waiting for the swell to rise, which will ultimately produce the biggest and cleanest waves.
BUSINESSES